Publications
For a full list see below or go to Google Scholar
Highlights
Decadal changes of surface elevation over permafrost area estimated using reflected GPS signals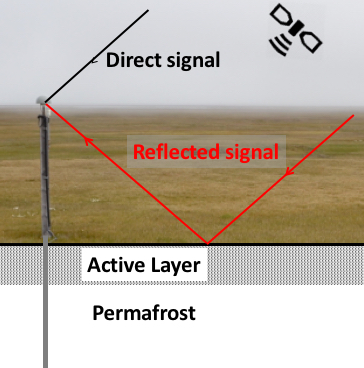 A new type of observations can tell elevation changes in permafrost areas over decades and at daily intervals.
Lin Liu, Kristine M. Larson
UNAVCO Science Snapshots
Permafrost stores a globally significant amount of mercury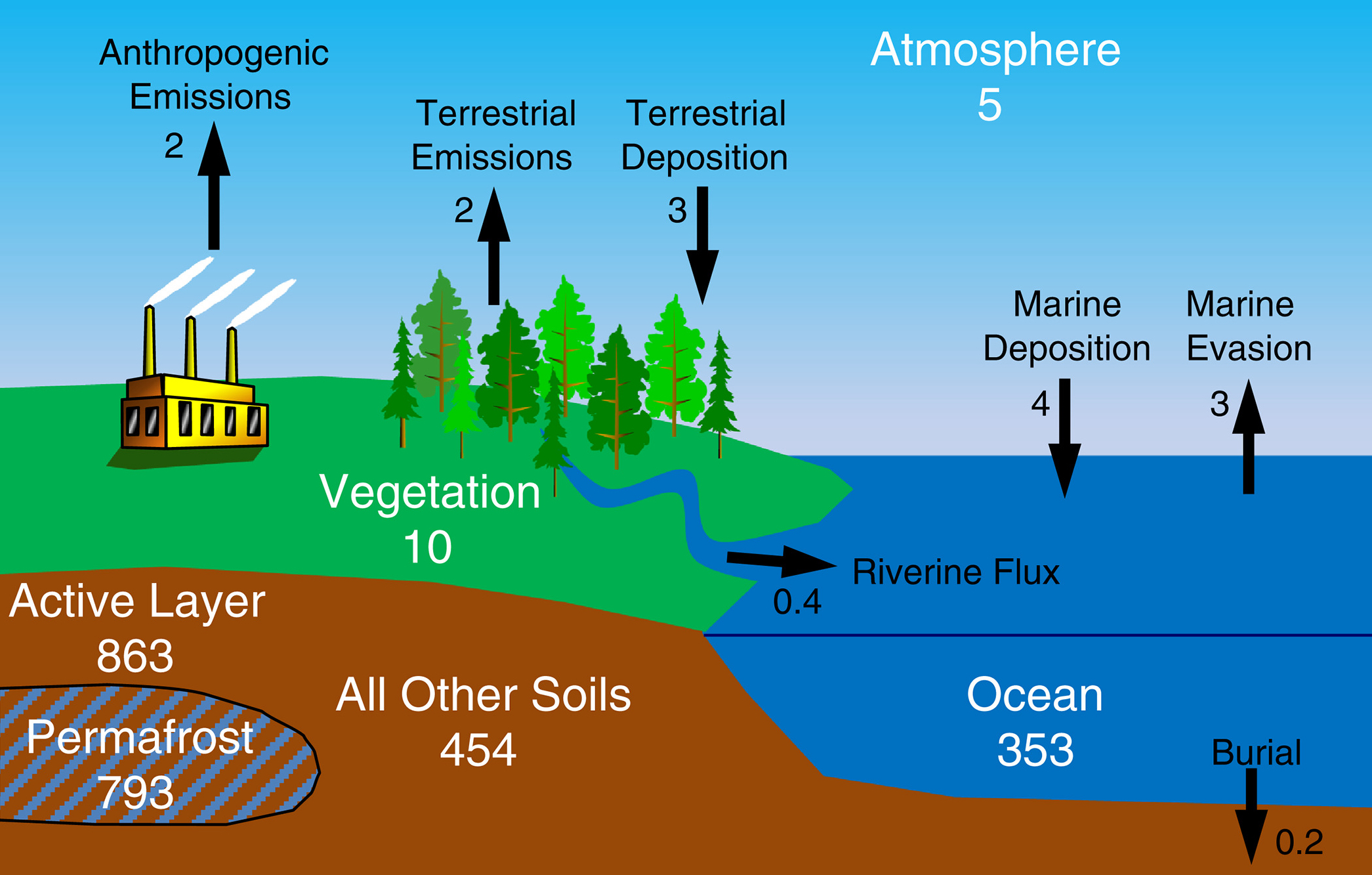 The amount of natural mercury stored in permafrost is twice as much as the rest of all soils, the atmosphere, and ocean combined.
Paul Schuster, K. Schaefer, G. Aiken, R. Antweiler, J. Dewild, J. Gryziec, A. Gusmeroli, G. Hugelius, E. Jafarov, D. Krabbenhoft, L. Liu, N. Herman-Mercer, C. Mu, D. Roth, T. Schaefer, R. Striegl, K. Wickland, T. Zhang
Geophysical Research Letters (2018)
In the top 5% of all research outputs scored by Altmetric
InSAR detects increase in surface subsidence caused by an Arctic tundra fire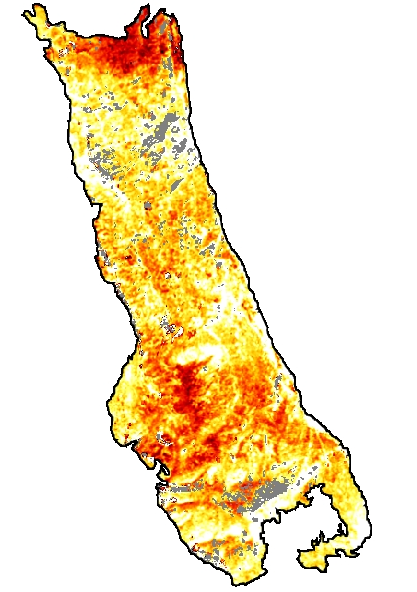 Wildfires promoted permafrost degradation and ground subsidence, as revealed by InSAR observations from space.
Lin Liu, Elchin Jafarov, Kevin Schaefer, Benjamin Jones, Howard Zebker, Christopher Williams, John Rogan, Tingjun Zhang
Geophysical Research Letters (2014)
Sustained mass loss of the Northeast Greenland ice sheet triggered by regional warming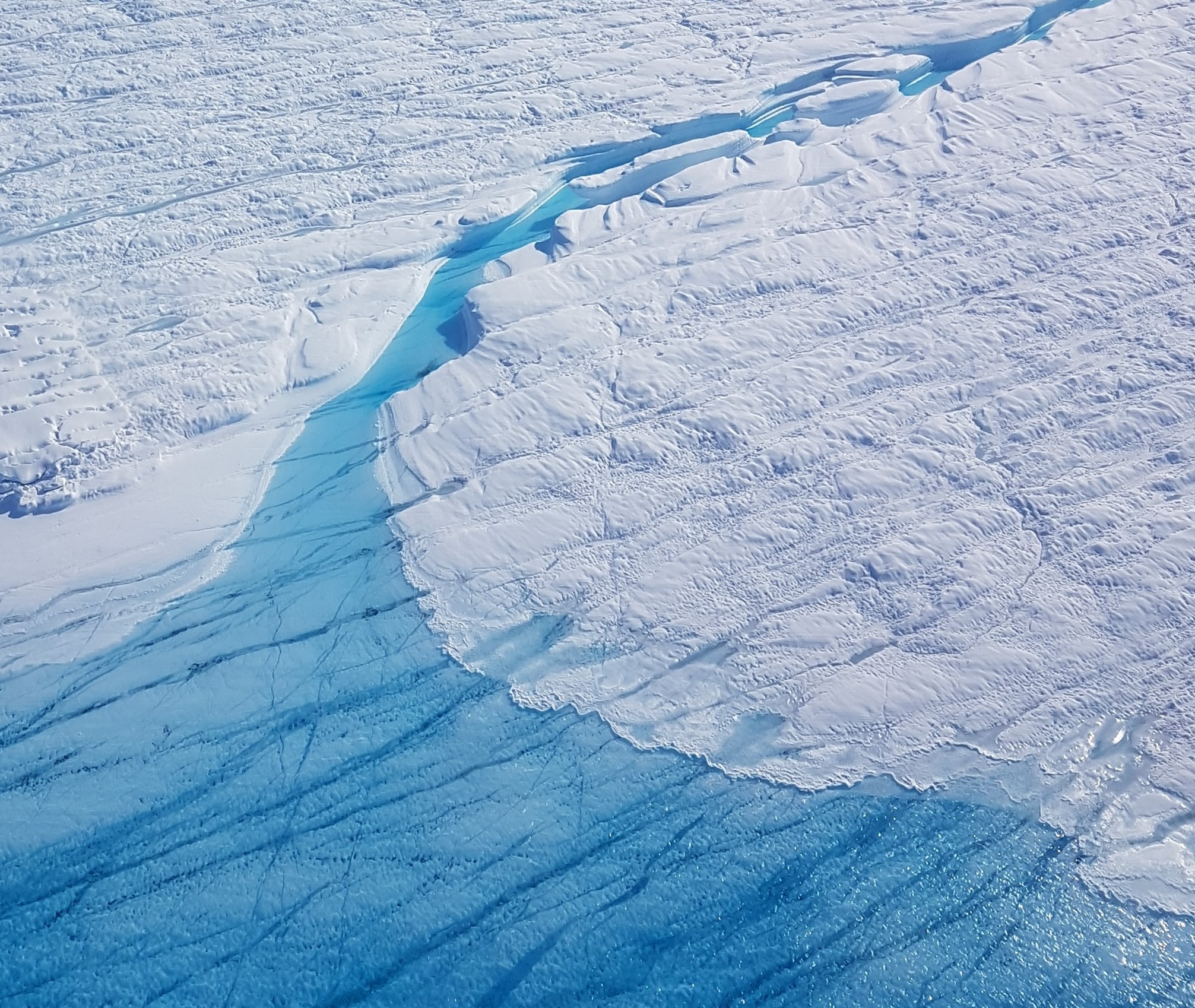 We discovered that the last remaining stable portion of the Greenland ice sheet was stable no more.
Shfaqat A. Khan, Kurt Kjær, Michael Bevis, Jonathan Bamber, John Wahr, Kristian Kjeldsen, Anders Bjørk, Niels Korsgaard, Leigh Stearns, Michiel van den Broeke, Lin Liu, Nicolaj Larsen, Ioana Muresan
List of Publications
Physics-based evaluation of the maximum magnitude of potential earthquakes induced by the Hutubi (China) underground gas storage
Guoyan Jiang, Lin Liu, Andrew Barbour, Renqi Lu, Hongfeng Yang
Journal of Geophysical Research: Solid Earth (2021)
Active layer thickness as a function of soil water content
Leah Clayton, Kevin Schaefer, Michael Battaglia, Laura Bourgeau-Chavez, Jingyi Chen, Richard Chen, Albert Chen, Kazem Bakian-Dogaheh, Sarah Grelik, Elchin Jafarov, Lin Liu, Roger Michaelides, Mahta Moghaddam, Andrew Parsekian, Adrian Rocha, Sean Schaefer, Taylor Sullivan, Alireza Tabatabaeenejad, Kang Wang, Cathy Wilson, Howard Zebker, Tingjun Zhang, Yuhuan Zhao
Environmental Research Letters (2021)
Progressive advance and runout hazard assessment of a low-angle valley glacier in East Kunlun Mountains from multi-sensor satellite imagery analysis
Xiaowen Wang, Lin Liu, Yan Hu, Tonghua Wu, Lin Zhao, Qiao Liu, Rui Zhang, Bo Zhang, Guoxiang Liu
Natural Hazards and Earth System Sciences Discussions (open review)
Interannual ice mass variations over the Antarctic ice sheet from 2003 to 2017 were linked to El Niño-Southern Oscillation
Bao Zhang, Yibin Yao, Lin Liu, Yuanjian Yang
Earth and Planetary Science Letters (2021)
An automated, generalized, deep-learning-based method for delineating the calving fronts of Greenland glaciers from multi-sensor remote sensing imagery
Enze Zhang, Lin Liu, Lingcao Huang, Ka Shing Ng
Remote Sensing of Environment (2021)
Data
Code "Front_DL3" (Written and maintained by Enze Zhang)
Mining noise data for monitoring Arctic permafrost by using GNSS interferometric reflectometry
Jiahua Zhang, Lin Liu
Polar Science (2021)
Data
LaeNet: A Novel Lightweight Multitask CNN for Automatically Extracting Lake Area and Shoreline from Remote Sensing Images
Wei Liu, Xingyu Chen, Jiangjun Ran, Lin Liu, Qiang Wang, Linyang Xin, Gang Li
Remote Sensing (2021)
Quantification of permafrost creep provides kinematic evidence for classifying a puzzling periglacial landform
Yan Hu, Lin Liu, Lin Zhao, Tonghua Wu, Jialun Cai, Xiaofan Zhu, Junming Hao
Earth Surface Processes and Landforms (2021)
Centennial response of Greenland's three largest outlet glaciers
Shfaqat A. Khan, Anders A. Bjørk, Jonathan Bamber, Mathieu Morlighem, Michael Bevis, Kurt Kjær, Jérémie Mouginot, Anja Løkkegaard, David Holland, Andy Aschwanden, Bao Zhang, Veit Helm, Niels Korsgaard, William Colgan, Nicolaj Larsen, Lin Liu, Karina Hansen, Valentina Barletta, Trine Dahl-Jensen, Anne Sofie Søndergaard, Beata Csatho, Ingo Sasgen, Jason Box, Toni Schenk
Nature Communications (2020)
Three-in-one: GPS-IR measurements of ground surface elevation changes, soil moisture, and snow depth at a permafrost site in the northeastern Qinghai-Tibet Plateau
Jiahua Zhang, Lin Liu, Lei Su, Tao Che
The Cryosphere Discussions (open review)
Improving the estimate of the secular variation of Greenland ice mass in the recent decades by incorporating a stochastic process
Bao Zhang, Lin Liu, Yibin Yao, Tonie van Dam, Shfaqat Abbas Khan
Earth and Planetary Science Letters (2020)
Global Positioning System interferometric reflectometry (GPS-IR) measurements of ground surface elevation changes in permafrost areas in northern Canada
Jiahua Zhang, Lin Liu, Yufeng Hu
The Cryosphere (2020)
Data
Using deep learning to map retrogressive thaw slumps in the Beiluhe region (Tibetan Plateau) from CubeSat images
Lingcao Huang, Jing Luo, Zhanju Lin, Fujun Niu, Lin Liu
Remote Sensing of Environment (2020)
Code "Landuse_DL" (Written and maintained by Lingcao Huang)
GPS observed horizontal ground extension at the Hutubi (China) underground gas storage facility and its application to geomechanical modeling for induced seismicity
Guoyan Jiang, Xuejun Qiao, Xiaoqiang Wang, Renqi Lu, Lin Liu, Hongfeng Yang, Yuanda Su, Lili Song, Baoshan Wang, and Teng-fong Wong
Earth and Planetary Science Letters (2020)
Automatically delineating the calving front of Jakobshavn Isbræ from multitemporal TerraSAR-X images: a deep learning approach
Enze Zhang, Lin Liu, Lingcao Huang
The Cryosphere (2019)
Data
Geodetic and model data reveal different spatio-temporal patterns of transient mass changes over Greenland from 2007 to 2017
Bao Zhang, Lin Liu, Shfaqat Abbas Khan, Tonie van Dam, Anders Anker Bjørk, Yannick Peings, Enze Zhang, Michael Bevis, Yibin Yao, Brice Noël
Earth and Planetary Science Letters (2019)
Detecting soil freeze/thaw onsets in Alaska using SMAP and ASCAT data
Xiyu Chen, Lin Liu, Annett Bartsch
Remote Sensing of Environment (2019)
Synchrotron X-ray imaging in 4D: Multiscale failure and compaction localization in triaxially compressed porous limestone
Lingcao Huang, Patrick Baud, Benoit Cordonnier, François Renard, Lin Liu, Teng-fong Wong
Earth and Planetary Science Letters (2019)
Changes in groundwater level possibly encourage shallow earthquakes in central Australia: The 2016 Petermann Ranges earthquake
Shuai Wang, Wenbin Xu, Caijun Xu, Zhi Yin, Roland Bürgmann, Lin Liu, Guoyan Jiang
Geophysical Research Letters (2019)
Inference of the impact of wildfire on permafrost and active layer thickness in a discontinuous permafrost region using the remotely sensed active layer thickness (ReSALT) algorithm
Roger Michaelides, Kevin Schaefer, Howard Zebker, Andrew Parsekian, Lin Liu, Jingyi Chen, Susan M Natali, Sarah Ludwig, and Sean Schaefer
Environmental Research Letters (2019)
Automatic mapping of thermokarst landforms from remote sensing images using deep learning: A case study in the Northeastern Tibetan Plateau
Lingcao Huang, Lin Liu, Liming Jiang and Tingjun Zhang
Remote Sensing (2018)
Code "DeeplabforRS" (Written and maintained by Lingcao Huang)
GPS Interferometric Reflectometry reveals cyclic elevation changes in thaw and freezing seasons in a permafrost area (Barrow, Alaska)
Yufeng Hu, Lin Liu, Kristine Larson, Kevin Schaefer, Jiahua Zhang, Yibin Yao
Geophysical Research Letters (2018)
Decadal changes of surface elevation over permafrost area estimated using reflected GPS signals
Lin Liu, Kristine M. Larson
The Cryosphere (2018)
Data
Geodetic measurements reveal short-term changes of glacial mass near Jakobshavn Isbræ (Greenland) from 2007 to 2017
Bao Zhang, Enze Zhang, Lin Liu, Shfaqat Abbas Khan, Tonie van Dam, Yibin Yao, Michael Bevis, and Veit Helm
Earth and Planetary Science Letters (2018)
Seasonal mass variations show timing and magnitude of meltwater storage in the Greenland Ice Sheet
Jiangjun Ran, Miren Vizcaino, Pavel Ditmar, Michiel van den Broeke, Twila Moon, Christian Steger, Ellyn Enderlin, Bert Wouters, Brice Noël, Catharina Reijmer, Roland Klees, Min Zhong, Lin Liu, and Xavier Fettweis
The Cryosphere (2018)
Using Persistent Scatterer Interferometry to map and quantify permafrost thaw subsidence: A case study of Eboling Mountain on the Qinghai‐Tibet Plateau
Jie Chen, Lin Liu, Tingjun Zhang, Bin Cao, Hui Lin
Journal of Geophysical Research: Earth Surface (2018)
Sentinel-1 InSAR measurements of elevation changes over yedoma uplands on Sobo-Sise Island, Lena Delta
Jie Chen, Frank Günther, Guido Grosse, Lin Liu, Hui Lin
Remote Sensing (2018)
Permafrost stores a globally significant amount of mercury
Paul Schuster, K. Schaefer, G. Aiken, R. Antweiler, J. Dewild, J. Gryziec, A. Gusmeroli, G. Hugelius, E. Jafarov, D. Krabbenhoft, L. Liu, N. Herman-Mercer, C. Mu, D. Roth, T. Schaefer, R. Striegl, K. Wickland, T. Zhang
Geophysical Research Letters (2018)
Surface deformation monitoring in the permafrost regions over Tibetan Plateau using Sentinel-1 data
Zhenming Wu, Lin Zhao, Lin Liu, Rui Zhu, Zeshen Gao, Yongping Qiao, Liming Tian, Huayun Zhou, and Meizhen Xie
Sciences in Cold and Arid Regions (2018)
Estimating active layer thickness and volumetric water content from ground penetrating radar measurements in Barrow, Alaska
Elchin Jafarov, Andrew Parsekian, Kevin Schaefer, Lin Liu, Albert Chen, Santosh Panda, and Tingjun Zhang
Geoscience Data Journal (2018)
Data
Transient variations in glacial mass near Upernavik Isstrøm (west Greenland) detected by the combined use of GPS and GRACE data
Bao Zhang, Lin Liu, Shfaqat Abbas Khan, Tonie van Dam, Enze Zhang, Yibin Yao
Journal of Geophysical Research: Solid Earth (2017)
Data
Annual variations in GPS-measured vertical displacements near Upernavik Isstrøm (Greenland) and contributions from surface mass loading
Lin Liu, Shfaqat Abbas Khan, Tonie van Dam, Joseph Ho Yin Ma, Michael Bevis
Journal of Geophysical Research: Solid Earth (2017)
Mapping and inventorying active rock glaciers in the northern Tien Shan of China using satellite SAR interferometry
Xiaowen Wang, Lin Liu, Lin Zhao, Tonghua Wu, Zhongqin Li, Guoxiang Liu
The Cryosphere (2017)
Data
Field evidence and InSAR detection of thermokarst after a tundra wildfire, using ALOS-PALSAR
Go Iwahana, Masao Uchida, Lin Liu, Wenyu Gong, Franz Meyer, Richard Guritz, Tsutomu Yamanokuchi, Larry Hinzman
Remote Sensing (2016)
Ground-penetrating radar-derived measurements of active-layer thickness on the landscape scale with sparse calibration at Toolik and Happy Valley, Alaska
Albert Chen, Andrew Parsekian, Kevin Schaefer, Elchin Jafarov, Santosh Panda, Lin Liu, Tingjun Zhang, Howard Zebker
Geophysics (2016)
Data
Remote sensing measurements of thermokarst subsidence Using InSAR
Lin Liu, Kevin Schaefer, Albert Chen, Alessio Gusmeroli, Howard Zebker, Tingjun Zhang
Journal of Geophysical Research: Earth Surface (2015)
Recent Arctic tundra fire initiates widespread thermokarst development
Benjamin Jones, Guido Grosse, Christopher Arp, Eric Miller, Lin Liu, Daniel Hayes, Christopher Larsen
Scientific Reports (2015)
Remotely Sensed Active Layer Thickness (ReSALT) at Barrow, Alaska Using Interferometric Synthetic Aperture Radar
Kevin Schaefer, Lin Liu, Andrew Parsekian, Elchin Jafarov, Albert Chen, Tingjun Zhang, Alessio Gusmeroli, Santosh Panda, Howard Zebker, Tim Schaefer
Remote Sensing (2015)
Data
Active layer stratigraphy and organic layer thickness at a thermokarst site in Arctic Alaska identified using Ground Penetrating Radar
Alessio Gusmeroli, Lin Liu, Kevin Schaefer, Tingjun Zhang, Timothy Schaefer, Guido Grosse
Arctic, Antarctic, and Alpine Research (2015)
InSAR detects increase in surface subsidence caused by an Arctic tundra fire
Lin Liu, Elchin Jafarov, Kevin Schaefer, Benjamin Jones, Howard Zebker, Christopher Williams, John Rogan, Tingjun Zhang
Geophysical Research Letters (2014)
Seasonal thaw settlement at drained thermokarst lake basins, Arctic Alaska
Lin Liu, Kevin Schaefer, Alessio Gusmeroli, Guido Grosse, Benjamin Jones, Tingjun Zhang, Andrew Parsekian, Howard Zebker
The Cryosphere (2014)
Sustained mass loss of the Northeast Greenland ice sheet triggered by regional warming
Shfaqat A. Khan, Kurt Kjær, Michael Bevis, Jonathan Bamber, John Wahr, Kristian Kjeldsen, Anders Bjørk, Niels Korsgaard, Leigh Stearns, Michiel van den Broeke, Lin Liu, Nicolaj Larsen, Ioana Muresan
Nature Climate Change (2014)
Carbon and geochemical properties of cryosols on the North Slope of Alaska
Cuicui Mu, Tingjun Zhang, Paul Schuster, Kevin Schaefer, Kimberly Wickland, Deborah Repert, Lin Liu, Tim Schaefer, Guodong Cheng
Cold Regions Science and Technology (2014)
Surface motion of active rock glaciers in the Sierra Nevada, California, USA: inventory and a case study using InSAR
Lin Liu, Constance Millar, Robert Westfall, Howard Zebker
The Cryosphere (2013)
Detecting unfrozen sediments below thermokarst lakes with Surface Nuclear Magnetic Resonance
Andrew Parsekian, Guido Grosse, Jan Walbrecker, Mike Müller‐Petke, Kristina Keating, Lin Liu, Benjamin Jones, Rosemary Knight
Geophysical Research Letters (2013)
The use of GPS horizontals for loading studies, with applications to northern California and southeast Greenland
John Wahr, Shfaqat A. Khan, Tonie van Dam, Lin Liu, Jan van Angelen, Michiel van den Broeke, Charles Meertens
Journal of Geophysical Research: Solid Earth (2013)
Vertical and horizontal surface displacements near Jakobshavn Isbræ driven by melt-induced and dynamic ice loss
Karina Nielsen, Shfaqat A. Khan, Giorgio Spada, John Wahr, Michael Bevis, Lin Liu, Tonie van Dam
Journal of Geophysical Research: Solid Earth (2013)
Constraining ice mass loss from Jakobshavn Isbræ (Greenland) using InSAR-measured crustal uplift
Lin Liu, John Wahr, Ian Howat, Shfaqat Abbas Khan, Ian Joughin, Masato Furuya
Geophysical Journal International (2012)
Estimating 1992–2000 average active layer thickness on the Alaskan North Slope from remotely sensed surface subsidence
Lin Liu, Kevin Schaefer, Tingjun Zhang, John Wahr
Journal of Geophysical Research: Earth Surface (2012)
Data
InSAR measurements of surface deformation over permafrost on the North Slope of Alaska
Lin Liu, Tingjun Zhang, John Wahr
Journal of Geophysical Research: Earth Surface (2010)
GPS measurements of crustal uplift near Jakobshavn Isbræ due to glacial ice mass loss
Shfaqat Abbas Khan, Lin Liu, John Wahr, Ian Howat, Ian Joughin, Tonie van Dam, Kevin Fleming
Journal of Geophysical Research: Solid Earth (2010)